Please read this Dockside Safety Checklist. Also, please have drivers get a free boating license from Boat US prior to arrival at this link: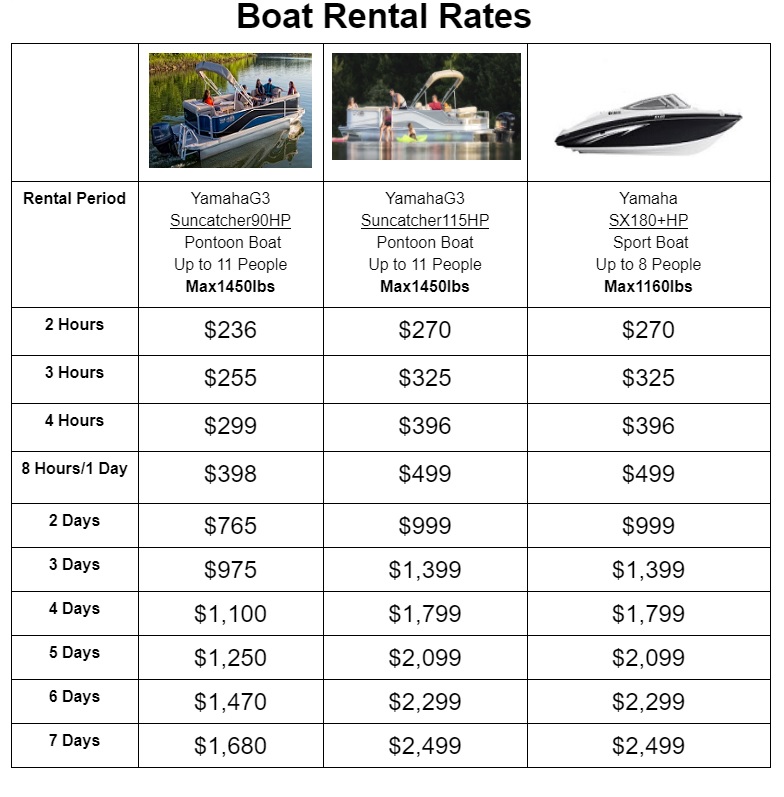 You can pick up the boat at 9am on the first day of rental. The boat is due back by 5:00pm on the last day of rental.

Must be 18 years old to rent.

Must be 16 years old to drive.

Must be 3 months old to be a passenger on boats.

It is mandatory that all drivers and riders come to the Aquatic Center Inc. to receive proper video training and sign our liability release before riding!

Boat reservations are advised! Reservations are not taken for less than one day for boats.

Gas is not included in the above rates. The boat must be returned full or we fill it and payment is expected upon return.

Please bring a credit card for a damage deposit, not a debit card.

Please bring a drivers license, passport or photo government identification card, if you are age 16 or older, even passengers.

Waterskis, children's waterskis, tubes, wakeboards, or kneeboards are available to rent with boats for $50/day. (Half day/4 Hour boat rental required.)

Please note that the boats will go slow when towing and filled at more than half the weight capacity.

Ski rope removal from sport boat pump is $199.

We do not promise stereos on our boats. Bring a waterproof blue tooth speaker, if music is important to you.

You can dock at our dock overnight and during the day and use our facilities, if you do not have dock at your rental home.

Large coolers and large dogs add to the maximum weight capacity on boats. (See maximum weight capacities above and dog note below.)

6% sales tax and 5% amusement tax is not included in above prices.

It is illegal to operate a boat while impaired by alcohol and or drugs. It is not only important for the boat operator to be sober, but the passengers as well. About one half of boating accidents are alcohol related.

No glass on boats.

No group discounts.

Prices are subject to change without notice.

No cancellations due to weather.

Our boats may not be operated between sunset and sunrise.

Individuals under 18 years old must be accompanied by their parent.*
*If children under 18 years of age are vacationing with friends, then we must have this prior notarized Rental Agreement DOWNLOAD PDF (The parent will fill out the lessee information and the put the child's name as additional lessee.) or upon our request this CRAFT RENTAL AGREEMENT FORM completed by their parents, so they may ride. The friends or relatives should also bring a separate statement from the parents stating that they may seek medical care for the child, if the child is injured. We reserve the right not to allow minors without their parents present to ride on our vessels. Also, the adult renting the vessel must be at least 18 years older than the minor, like an aunt or uncle. For instance, a 19 year old sister cannot rent a boat for a 16 year old brother.

Nice dogs are allowed on our boats. They must be leashed on property. Please do not bring mean breeds, who may scare other customers, or dogs that bite on the property. Customers must bring bags and clean up after their dogs on the property. Customers must also bring Windex and a roll of paper towels to clean all dog hair and paw prints off the boat after their rental. Please try to keep the dogs off the seats. The boat must be returned in clean condition. Large dogs also add to the weight capacity of a boat. Please review the weight capacity of the boat that you are renting, before bringing your dog. You can bring a life preserver for them, if they do not swim well.

Please click the red book now button below to check for availablity.

NOTE: We are not renting jet skis this summer due to COVID-19 and having to rotate life vests every three days, which is recommended by the DNR and CDC. We are reserving boats daily use or for multiple days, which is the only way to guarantee that a boat will be available. We rarely have hourly rentals available.